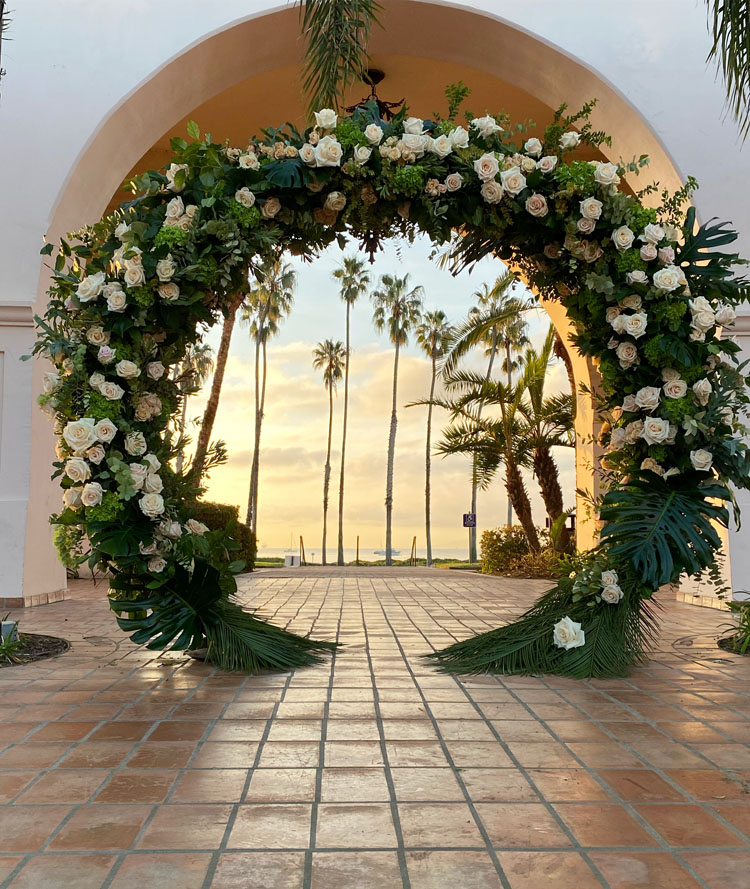 A beautiful week in Santa Barbara has come to an end and I'm back home in Washington spending the morning thinking about all the wonderful moments experienced at #FlorabundanceDesignDays . This was the 7th #FlorabundanceDesignDays and it ended in the sweetest way possible, Jose Rabelo, a Floral Consultant at Florabundance married his sweetheart, Gabby.
This beautiful moon arch was designed by the students during a session lead by @hitomigilliam and it was the backdrop during Jose & Gabby's wedding ceremony. Attendees worked with @PaulThomasFlowers to adorn the entry of the @hiltonsantababararesort with all white flowers in silver vessels. Katie Davis of @Ponderosa_and_Thyme lead the group in designing centerpieces for the guest tables – and had everyone up and dancing in a conga line during the session! In addition to the moon arch Hitomi lead the attendees in designing a stunning floral tapestry which framed the bride's entrance to the ceremony. Hitomi and gang also created a flower wall and two large hanging installs to be enjoyed during the reception. Shane of @OakandFigFloral led a session on creating individual pieces which came together to embellish the fireplace and later were moved to decorate the backdrop of Jose & Gabby's sweetheart table. The morning of the wedding @HollyChapple shared with the students how to create a bridal bouquet using eggs & pillows. Gabby carried a bouquet designed by Holly and the attendee's bouquets were attached to the chairs down the aisle. The day after the wedding the flowers were repurposed into bedside arrangements by Shawn of @thefull_bloom and a crew of volunteers, over 300 arrangements were delivered to area hospice hospitals and long term care facilities with the help of our pal Val of @dream_Foundation
It all came together so beautifully with so much LOVE!
In addition to the design sessions lead by the instructors mentioned above, I gave a presentation on social media, Jodi Duncan shared how to use Design Master @DmColor to enhance color, Anne of @SyndicateSales who supplied the Holly Chapple Eggs & Pillows and the Vases for the donation arrangements, and Teresa of @AlexandraFarms who shared gorgeous Garden Roses.
The Florabundance crew did an amazing job welcoming everyone and keeping the flowers flowing thru-out the event and handling the logistics of Jose & Gabby's wedding!
Sharing a few more shots I took while at the event, soon the professional photographer Lerina Winter will share her photos with attendees and I'll post more. Oh, and shout-out to Margaret Joan Florals who did the styling of flowers and props for the professional images!